Remedium Telemedicine for Maternal and Fetal Care

Remedium Telemedicine application for Maternal and Fetal care addresses one of the areas where Telemedicine has offered some of the greatest opportunities in Women's healthcare as in the areas of Pregnancy and Pre-natal care. While monitoring for pre-term labour is now considered routine in high-risk obstetrical patients in many countries, there is also scope for remote active monitoring of the fetus itself in high-risk patients. Today's technology allows pregnant mothers to transfer their pregnancy non-stress tests for remote fetal evaluation through Fetal Heart Rate (FHR) monitoring, improving still further the ability to remotely monitor fetal well-being at home.

Fetal monitoring provides a window allowing the gynaecologist or obstetrician to see how the unborn child is faring. Now a days, it is a common practice to monitor non-risk pregnancies also in order to lay to rest the anxiety of pregnant mothers who may need the comforting advise of the Gynecologist as and when they are in doubt about the health of their baby. A portable Fetal/Maternal Monitor providing transmission of medical data to a physician or medical facility for analysis and consultation is suitable in such a scenario.
Maternal and Fetal Care Telemedicine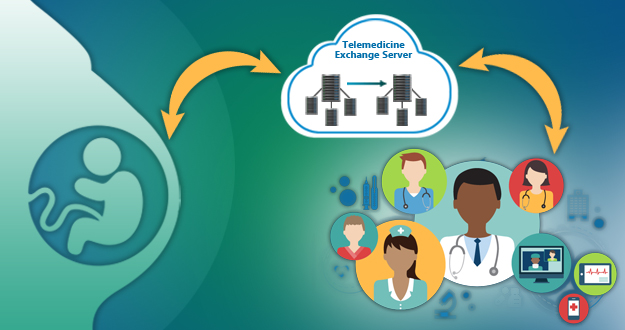 Monitoring of Fetal Heart Rate and waveform remotely
Fetal Doppler can be used from a Remote Clinic, Mobile Clinic or at home
Electronic Medical Record availability any time, anywhere for instant consultation
Builds confidence of expectant mothers as their consultant Gynaecologist is accessible whenever needed
Full-fledged video consultation platform whenever needed