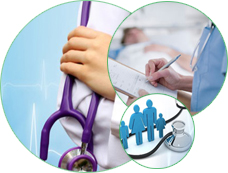 Remedium Hospital Management Software solution is a well-integrated framework designed on patient-centric work flows integrating all the processes of a Hospital like Out-Patient Management, In-Patient Management, Emergency department, Laboratory, Radiology, PACS, Pharmacy and all other allied support services like Diet, F&B, Blood Bank and Administrative and Operational MIS, Reports and Dashboards. The Hospital Management Software is well integrated to provide seamless integration of all the processes in a hospital and provide framework for efficient patient care. The Hospital Management Software is designed to take into account all the processes and encounters revolving around the patient capturing all the billable entities with accurate reflection in the final bill generation. The Hospital Software is designed to take into account an efficient patient admission management based on insurance, corporate credit, cash or credit patients.
Remedium Physicians Practice Management Software is a fully integrated solution covering all the areas of an individual physician or in a group practice. The Physicians' Practice Management Software provides an efficient framework for supporting the practice to treat their patients anywhere anytime. Individual Physicians do not have the institutional framework available to physicians practicing in large hospitals. Very often, the physicians have to depend upon their patients bringing their previous medical records consisting of their illness, medication and diagnostic test details for providing efficient continuity of care. This can be a problem even with the revisits of the patients to the same doctor; and, this issue gets more complicated when the patients have a record of consultation with multiple doctors. Inability of the doctors to have access to the Medical Record of the patients will force them to either conduct a detailed medical examination once again, or, rely upon patients' memory for recollecting the details of their medication and other aspects of treatment being given. Both these processes could be quite time consuming, affecting the productivity of the physician. Hence, capturing proper patient history consisting of the individual's past medical history, family history, allergy record and past medication record will ensure efficient and safe patient care; and a robust, reliable software technology framework for the same providing unfettered access to the practicing doctor will go a long way in ensuring Quality Care to the patients.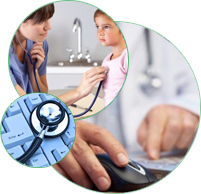 Remedium Practice Management Software provides an integrated software platform based on International and Indian EHR standards like ICD-10 which brings in standardisation to the Patient Health Record Storage and Retrieval. Remedium Physicians Practice Management Software provides efficient processes right from Patient Registration, Appointment, Billing, Quick Consultation, e-Prescription based on a large drug information framework built in to the solution; and ordering of Lab / Radiology and allied services. Remedium Practice Management Software has a unique data capture methodology to ensure that physicians spend quality time on patient care rather than on capturing data. The whole solution is architected on Patient-Centric approach for providing an efficient end-to-end solution for Doctors' Practice Management
Remedium Laboratory Information Management System is a complete solution for Diagnostic Centers / Pathology Laboratories to manage their workflows, interface with Lab Machines and also to enable them to directly receive online Test Orders from external agencies such as Physicians, Hospitals etc., and to send Test Reports back to them. Remedium LIS is designed to seamlessly streamline the workflows, right from specimen accessioning through results reporting. The LIMS Module helps users to place requests into the system for proficient and collective analysis of patient's specimens. The LIMS Module automates the investigation request and the process involved in delivering the results to the concerned department / doctor of the hospital. LIMS Module receives online request from the Doctor's and allows Lab Personnel to generate a request. Sample Analysis results can be entered into the system and facilitates for sample criteria details such as pending, re-run.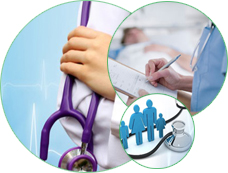 It has provision to enter the details of rejected samples and creation of laboratory reports. This module assists in maintaining other laboratories list and also have a comprehensive view of details of samples given to other laboratories. In today's demanding era of regulation and compliance, laboratory quality managers are called on to maintain strict standards and still maintain an efficient laboratory. The Remedium LIMS by virtue of it workflow approach and maturity as a product combined with its ease of use, ensures Quality and error-free performance of the Laboratory. The various Laboratory Disciplines Include: Bio-Chemistry, Immunology, Pathology, Hematology, Clinical Chemistry, Immunology and Molecular Biology, Microbiology and Parasitology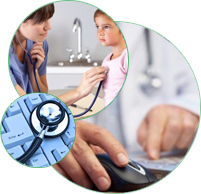 Remedium Pharmacy Management System is an end-to-end Pharmacy prescription fulfillment solution suitable for Independent Pharmacies or Pharmacy Chains and Out-Patient Pharmacies within a Hospital set-up. The Pharmacy Management System is flexible, easy-to-learn and adapt solution. Remedium Pharmacy Management System deals with the everyday activities along with administration process of Pharmacy along with comprehensive method of managing the inventory and dispatching of drugs. Complete database of Pharmacy inventory is done according to the generic molecules. All generics and their respective brands, batch nos., and, expiry dates, used by the hospital are maintained in a database with the relevant commercial terms applicable from time to time. Remedium Pharmacy Management System generates remedial alerts for error free management.

The solution also includes pharmacy billing and sales management which eases the overall management of the pharmacy. The Pharmacy Management Solution provides comprehensive view of information in a single screen. The solution also deals with credit and cash billing of patients, and, is designed to generate outpatient bills also. The Pharmacy Management Software is aligned to other modules in the Hospital Information Management System, such as Doctor Consultation, General Stores and Nursing Station etc. The system is designed to track medication stocks efficiently, with a provision to store patient's prescriptions, facilitating pharmacists by providing reminders for drug re-fill.
Key Components of Remedium Hospital Management Software