Remedium Telemedicine for Lifestyle Diseases

Remedium Telemedicine for Lifestyle Diseases addresses the raging problem around the world in which diabetes, obesity and cardiovascular diseases are affecting the health and well-being of hundreds of millions of people. These diseases are no longer confined to the developed world as millions of people in developing countries are adopting a westernised lifestyle and are being affected by these diseases. Unhealthy living habits, sedentary lifestyle, stress and pollution are becoming major causes for lifestyle diseases which are causing an enormous burden on the physical, mental and financial well beings of individuals and communities. The lifestyle diseases like Diabetes, Blood Pressure and Cardiac problems need a regular monitoring of the affected person and need a holistic advise for controlling the damaging impact the lifestyle diseases can have on the affected individual.

Remedium Telemedicine for Lifestyle diseases ensures continuity of care in patients afflicted with lifestyle disorders, as they need regular monitoring, but, do not require hospital admission. The patients will be trained to use the telemedicine enabled medical devices like BP monitor, Pulse Oximeters, Thermometer and Blood Glucose Monitor for monitoring the patients' vitals and updating in the Medical Record regularly, to be accessed by the Consulting Doctor for better disease monitoring and ensuring better quality of care. This kind of continuity of care will improve the treatment outcomes enormously among the patient communities and also will reduce associated disease burden and needless hospitalization through timely interventions.
Telemedicine for Lifestyle Diseases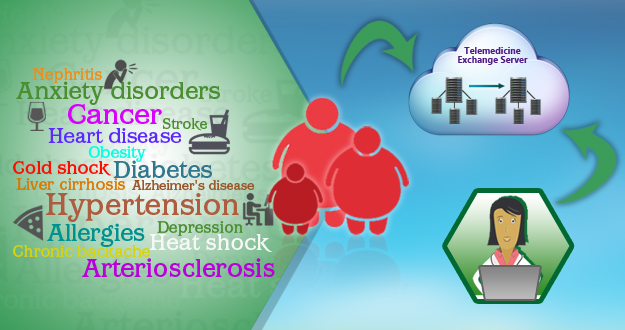 Monitoring of vitals like Weight, Temperature, BP, ECG and Glucose
Ideal for Diabetic, Hypertensive and Cardiac patients who need regular monitoring
Electronic Medical Record availability anytime, anywhere for instant consultation
Builds confidence of patients as the Doctor is accessible whenever needed
Full-fledged video consultation platform whenever needed